These piggies are all rescues from around Oregon and Washington, and awaiting your forever home.

Hi, I am also a small private rescue. I work in conjuction with non profit rescues through out Oregon and Washington. I also privately rescue handicapped or unwanted piggies from the community through out Oregon. When surrendering your piggies to my rescue I ask that you please send a donation of either their supplies (cages, food and such), or a $10 donation. This helps me cover the expenses of debugging/worming, and to insure they are in proper health as well as for their care while they await their new forever and loving homes. Below are pictures of the rescues currently housed with me awaiting your forever and loving home. Would you be that special friend they are looking for?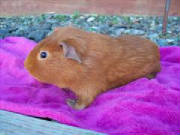 I have a red boar with one club foot awaiting his forever home. It will be important to feed him correctly so he doesn't get overweight causing a lot of pressure on his foot, other than that , he is healthy and ready for a long life of love with his special someone. Adoption fee is $10.



All the guinea pigs listed above are free of mites, worms or other diseases. Some are handicapped however capable of living a long and healthy life with the right care.
Adoption Fees are $15 each or $20 for a pair. I do have some low income assistance, so if you think you would qualify, please ask. I require all potential owners to buy Vitamin C before the guinea pig will be released. I sell small packets for $1 if you have not yet purchased your own. New adoptions come with a small sack of food as well, to help them transition into their new environment with out the added stress of a radical change of food too.
If you are interested in adopting please contact Tamara at thamlet2149@aol.com.
Owned by Tamara McCuistion, North Bend Oregon